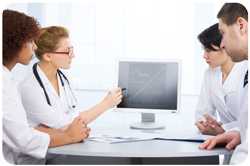 Meeting the challenges of Meaningful Use and ICD-10 is difficult enough. Rest assured that with iPractice Group, your practice is optimized for the demanding changes in regulatory compliance.  We're your source for the latest information to navigate the challenges you face.
The New Standard In Medical Care Management
ICD-10 refers to 10th revision of The International Statistical Classification of Diseases and Related Health Problems, a medical classification list for the coding of diseases, signs and symptoms, abnormal findings, complaints, social circumstances and external causes of injury or diseases, as maintained by the World Health Organization (WHO). ICD-10 will become the standard for medical diagnosis and inpatient procedures in the US healthcare industry on October 1, 2013, at which time ICD-10 codes will be required on all HIPAA transactions.
The conversion to ICD-10 presents substantial challenges for you as a physician due to a number of significant alterations from ICD-9:
ICD-10 is printed in a three-volume set, compared to ICD-9's two volumes.
ICD-10 has alphanumeric 3-7 digit categories while ICD-9 features numeric 3-5 digit numeric categories.
Some chapters, titles, and conditions have changed.
ICD-10 has almost twice as many categories. (Does not affect CPT coding for outpatient procedures)
These changes produce especially difficult challenges for your independent medical practice, which relies on the knowledge, expertise and ability of smaller staffs to maintain efficient operations and deliver great patient care. For both your clinical and administrative personnel, learning a vastly larger coding system and integrating it into the practice are daunting obstacles.
While there is no substitute for learning the new code set, you can find peace of mind knowing your solution integrates your practice's EHR and PM programs with ICD-10 readiness.  You need to know that your EHR and billing programs can work within the ICD-10 setting. Designed with Greenway's award-winning, ONC-certified PrimeSUITE software, iPractice Group can deliver an ICD-10 compliant solution when the nation changes to full adoption on October 1, 2013