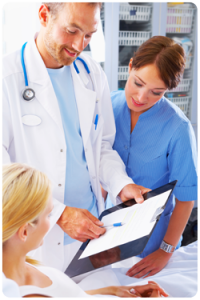 Enhance your patient care.  Strengthen your bottom line. Through consolidation of front- and back-office services and workflow integration, iPractice Group can streamline coding, billing, and collection for your practice, and improve health and outcomes for patients.  Move from paper to powered.
iPractice Group understands that the business of medicine is complicated and can often be a distraction for you, taking your attention away from the practice of medicine.  Even more daunting is the scope of changes in healthcare regulations and speed of technology innovation requires you to rethink your clinical and operations work flow. Now is the time to find the right EHR & PM solution that improves your outcomes.
Using iPracticeSUITE ™ your medical office can:
Meet minimum Meaningful Use standards & ICD-10 coding
Improve the quality of patient care
Decrease medical and billing errors
Provide long-term efficiency improvements to business processes
Make a patient's medical record electronically portable and directly accessible
Share a patient's medical record among other providers for the benefit of the patient
Collect aggregate medical information for research purposes
A Profitable Business Case
An average increase to practice revenues of can be up to $21,600 – $81,500 per physician per year using PrimeSUITE*. Efficiencies are seen through coding improvements, elimination of transcriptions and paper chart expenses, better collection ratios and other streamlined practice activities.
iPracticeSUITE ™ is user-friendly for the office staff, ergonomic and functional for the variety of uses and workflows in a physician office, a long-term value for the physician practice with low support costs for ongoing use, and economical for a small group or solo physician practice to purchase.
iPractice Group's comprehensive IT solution gives you:
An affordable EHR & PM adoption that reallocates costs while consulting with you to adapt to leverage your technology needs
Industry standard metrics for EHR & PM efficiencies along with the statistics for your practice to set a business case for the iPractice Group proposal.
An implementation schedule that includes the training milestones to protect revenue during the transition.
A clear path to achieving Meaningful Use to receive incentives available from 2011 through 2015.
Collaboration to determine opportunities for improvement in reliable billing and revenue management from clearinghouse selection to optimize the PM functions
An iPractice Group account consultant will work with you individually to develop an EHR & PM plan that makes solid business sense for your practice. Contact us today to learn more and get started.