30% of a medical practice's revenue is dependent on the patient, and with higher co pays and deductibles expected to continue to rise over time, it's imperative for a medical practice to efficiently and successfully collect money from patients.  Unlike years past, patient payments are the fastest growing portion of a providers' revenue stream, yet have the lowest collection rates.
PatientSwiperelates to a suite of web-based payment solutions designed to help healthcare providers efficiently and effectively manage patient payments, shifting the patient collection process from the back office to the point of care.   From one system, providers can process and manage any form of payment from patients – for the full amount owed at the time of visit, or to secure a payment guarantee for the amount the patient will owe after the insurance reimbursement including any deductible or coinsurance amounts.
Eligibility & Calculator – will verify patients' insurance, estimate patient responsibility, and produce an easy to read statement in real-time to provide patient at time of service. This creates transparency and helps manage expectations for the patient.
Payment Gateway – allows you to swipe and process credit, debit, or check payments directly to your computer, and automatically posts transaction data back into your practice management program.  For larger balances owed, payments can be made over time using the automated scheduled payments feature.
Payment Portal – Allows patients to make secure, online payments with credit, debit, or check payments
Reports – Instantly generate detailed transaction reports
Card on File
Store a patient's bank account or credit card information to collect a one-time payment or for future use against post-insurance balances. Card on File is convenient if you have patients who visit often, but do not want to write a check or give you a credit card every time they visit. With the system-generated authorization form, obtaining a patient's approval for payment is fast and hassle-free.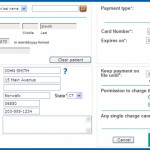 Process credit card, debit card, checking or savings account.  Because our PatientSwipe solutions use your current computer and Internet connection, it eliminates the need for dedicated phone lines and expensive point-of-sale devices and interfaces with your billing or practice management system.
Schedule Payments
In the event a patient cannot pay the total amount due at time of service, PatientSwipe solutions let you split that amount into smaller payments that the patient can afford. This feature eliminates the need for sending bills and statements to your patients every week or month, and the patient authorization form speeds patient set up.
Significantly increase cash flow – Increase cash flow, reduce administrative billing and collection costs, and reduce bad debt by 50% or more! Traditional methods of bill collection have been unsuccessful, and a waste of time.Just to mail out 1,000 statements each month costs $420 in postage alone, not to mention the costs of both the paper AND for administrative staff to generate the bills.
Revenue Maximizer Virtual Terminal
SpecificallyDesigned for Healthcare
·  More than just card acceptance
·  Securely stores patients' payment information for use on a one-time or recurring basis
·  Eliminates balance billing
·  Automates patient payment plans using card or ACH
·  Generates card on file and recurring payment agreements to capture patient   authorization
·  Captures patient information and other healthcare specific data elements – key to managing A/R
·  Allows for more efficient payment posting for all forms of payment
·  HIPAA/HITECH compliant and PCI Level 1 certified
·  Pre-designed to meet future needs; scalable platform
Key statistics (averages):
$1 of every $3 in total revenue is owed directly from patients
50% of patient balances owed are written off as bad debt
30% of patients walk out of an office without ever paying a dime
3.3 billing statements will be sent before a patient's balance is paid in full
$15.77 of every $100 owed is recovered when a collections agency takes over
It takes a practice 10‐15 minutes to verify a patient's insurance eligibility
Failure to verify eligibility leads to delays in payment and rejected claims
In Summary
Your Practice will…
 ·  Increase Point of Care Collections
·  Decrease Billing Costs
·  Increase Patient Payment Convenience
·  Increase Cash Flow
·  Improve Patient Satisfaction
 Click here for information on the payments AND Insurance verification product, Revenue Maximizer Plus.